Rupee Slips Over 8 Paise in Early Trade; Weakness Could Persist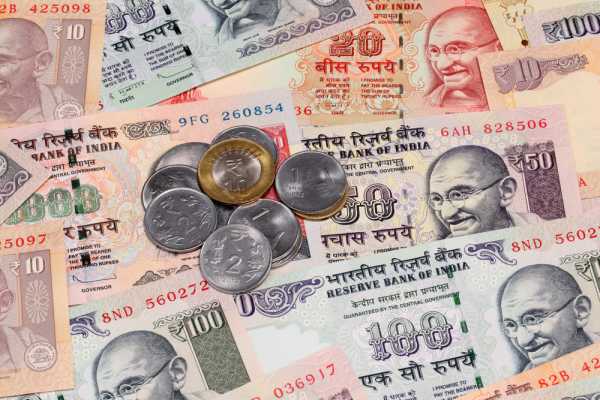 The Indian rupee opened on a weaker note, depreciating by over 8 paise against the US dollar in early morning trade Tuesday as the greenback hovered below a two-month high versus its major counterparts.
The dollar to rupee conversion today rose to 74.275 against the U.S. currency, up from Monday's close of 74.19. The rupee has lost over 160 paise so far this month and weakened over 5 paise in the last trading sessions. It is worth noting that sustained foreign fund outflows, higher oil prices, and firm U.S. dollar will continue to weigh on the battered Asian currency.
"For a major part of the day the rupee lacked momentum and ended almost flat at 74.19 levels. Hawkish Fed comments on Monday helped the Dollar index to move slightly higher while dovish ECB comments undercut the EURUS$. We feel the Dollar index should find support near 91.5 levels," noted analysts at ICICI Direct.
"Weakness in the rupee should continue as crude oil prices moved to 2018 highs. Huge writing positions were formed even in OTM Puts for the July series, which should provide support to the USD to INR pair. The dollar to rupee June contract on the NSE was at 74.43 in the last session. The open interest rose 26.3% for the July series."
The dollar index, a measurement of the dollar's value relative to six foreign currencies, was trading 0.07% higher at 91.947 – not from a two-month high of 92.408. The dollar is expected to rise over the coming year, largely driven by the Fed's dot plot released last week, which suggested an expectation of two rate hikes in 2023.
"The dollar extended gains in the previous session as US Treasury yields rose after the US core PCE price index rose to 3.4%, the highest level since 1991. We see range trading until the outcome of the US labour market report that is due on Friday," noted analysts at ICICI Bank.
A strengthening dollar and growing worry that the Federal Reserve would tighten its monetary policy earlier than expected weighed on the yellow metal. Gold prices fell about 0.4% to $1,774.15.
The benchmark equity indices the BSE Sensex was down 164.78 points or 0.32% at 52567.10, and the Nifty was down 56.55 points or 0.35% at 15759.80.
However, foreign institutional investors were net sellers in the capital market on Monday as they offloaded shares worth Rs 1,658.72 crore, as per exchange data. Global oil benchmark Brent futures fell 0.52% to $74.29 per barrel.